Learn about our different Abhyanga Packages made for your every need.
Index
We offer a very special consultation where we hear your problems and understand your needs and advise you the best treatments, herbal supplements, and/or packages that are best for you.
At Divya Ayurveda, you are never alone. We take pride in helping our clients get through hardships and achieve a happy, healthy lifestyle. 
An Ayurvedic full body therapy using herbal medicated oils for better circulation, improves digestion and to give a longevity, delay the ageing process. It reduces the stress and improves the immunity system and moisturizes the skin.
90 minutes / $149 per session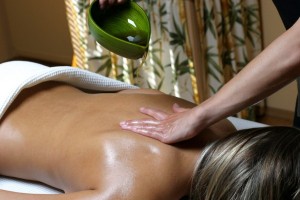 This treatment uses herbal oils and special herbs to rejuvenate and detox the body by promoting better circulation and improving digestion. Bhoomi focuses on the face and neck to release tension which is deep within us, which also makes the skin appear toned and healthy.
This treatment is uses ayurvedic, medicated herbal oils and small pouches made up of various herbs. This combination reduces inflammation, alleviates arthritis pain, and increases flexibility. Soorya also relieves pain, stiffness, and muscle spasms to improve mobility and This full body package is the absolute best for making your immune system very strong and promoting a better circulation in your body, and detoxing your whole body.
120 minutes / $229 per session
This package is an ayurvedic full body therapy using medicated herbal oils and involves gently pouring warm oil or herbal medicated milk over the forehead for a certain period of time to relief mental stress and insomnia. Indra package improves the quality of voice, gives strength to the head and neck, regulates mood and depression disorder and increases the alertness. This powerful, yet simple package increases blood circulation to brain which can be the most beneficial to anyone who needs mind, body, and soul balance.
120 minutes / $229 per session
This Abhyanga package uses medicated oils and paste, made from various ayurvedic herbs, to remove toxins from the body and restore full balance. Soorya package increases blood circulation by opening pores, reducing inflammation and relieving pain and stiffness in the muscles and joints. Soorya package is also highly reccomended to those that suffer from seasonal allergies.
120 minutes / $229 per session