Reveal your natural beauty.
Index
We Offer A Very Special Consultation Where We Hear Your Problems And Understand Your Needs And Advise You The Best Treatments, Herbal Supplements, And/Or Packages That Are Best For You.
At Divya Ayurveda, You are never alone. We take pride in helping our clients get through hardships and achieve a happy, healthy lifestyle. 
Face Detox & Rejuvenation
A medicated herbal paste is applied to the face and scrubbed, then massaged with herbal oil followed by the facial steam, herbal mask and Ayurvedic beauty cream. The massage focuses on the face and neck to release deeply held tension making the skin appear toned and healthy. It also detoxifies and stimulates circulation.
40 minutes / $79.95 per session
A complete hair care treatment along with nasyam, that prevents dandruff, hair loss, and premature graying . Makes the hair soft and shiny and initiates hair growth.
Recommendation: once or twice a week, for 21 weeks.
40 minutes / $69.95 per session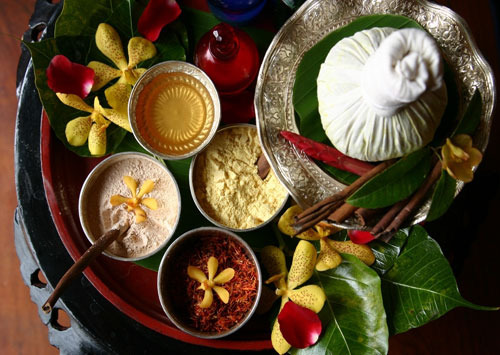 Different herbal packs are applied to the face followed by the herbal oil face massage and face steam. This treatment helps to reduce acne while nourishing the skin and detoxifying the face.
Recommendation: once a week for 15 weeks.
45 minutes / $89.95 per session
Medicated Herbal paste is applied all over the body and scrubbed, then massaged with Ayurvedic Herbal oil.
We highly recommend adding a Svedana (Detox Steam Bath) after. This deeply nourishing treatment softens, soothes and hydrates your skin with the natural healing properties of medicated herbal milk.
120 minutes / $229 per session
Dark circles under the eyes are often formed due to accumulation of toxins under the facial skin. Ayurvedic eye care expel these toxins, reduces the wrinkles below eyes and nourishes & tones the delicate skin around the eyes.
45 minutes / $99 per session